---
Exploring Leadership — International Leadership Association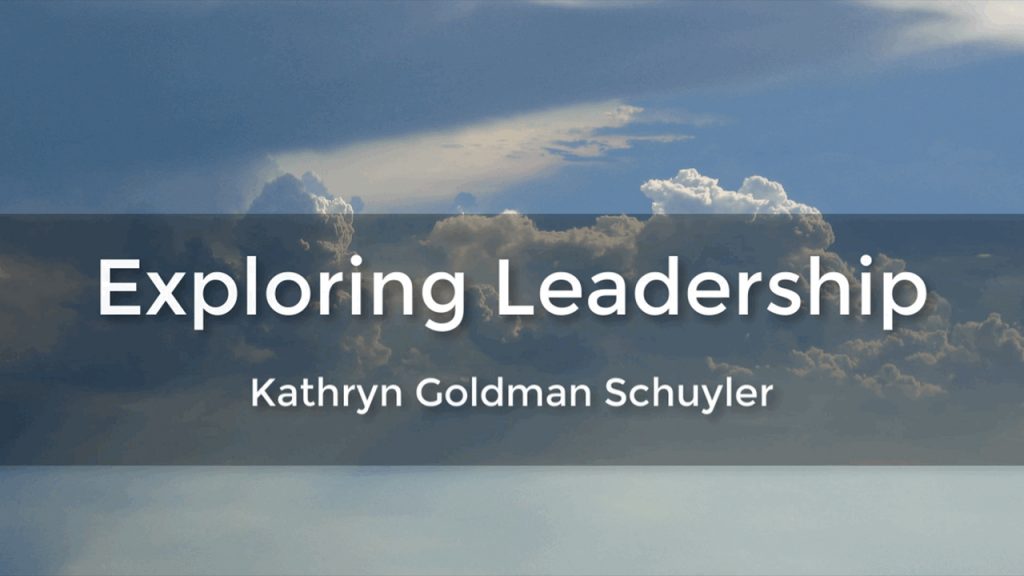 In this series of conversations, Kathryn Goldman Schuyler introduces viewers to leaders who dance with possibility, whose creativity, depth, and vision bring leadership to life — people from many arenas whose lives add vitality and meaning to our planet.
---
5—

In this episode, Kathryn Goldman Schuyler interviews Alonzo King, who is Choreographer, Artistic Director and Co-Founder of LINES Ballet, who has been named Artist in Residence for San Francisco's Grace Cathedral for 2019-2020. King has been called a "visionary choreographer" who is altering the way we look at ballet.
---
4—

In this episode, Kathryn Goldman Schuyler interviews Anne Stevens, who has been the most influential woman in the US auto industry, moving on to become CEO of a UK-based global engineering company, GKN plc. Anne knew W. Edwards Deming personally and was deeply interested in quality before it became ubiquitous in industry. Starting early in life in nursing school, she realized quickly that her interests and skills lay elsewhere, and she shifted into engineering. After some years at Exxon, she moved on to Ford Motor Company, where her lifelong love of cars and racing made her feel at home. She ultimately became COO and EVP for the Americas, after being involved in reorganizing the company for the future. Since then, she has led several engineering companies. She shares her experiences with leading in male-dominated industries—and what's important to her in life.
---
3—
In this episode, Kathryn Goldman Schuyler interviews Ed and Peter Schein. For decades, Ed Schein has been a respected global thought leader — for his work developing process consultation, career anchors, and for his application of the notion of culture to organizations. His thinking, consulting, and books have nourished the practice of organization and leadership development consultants around the world. He and Peter now work together in the Organizational Culture and Leadership Institute (OCLI) and co-authored the recent book Humble Leadership (2018).
---
2—
In the second episode, Kathryn interviews Yongey Mingyur Rinpoche, founder of Tergar International. His brain patterns were examined by researchers in ground-breaking studies. Recently he took four years off from his position at Tergar to pursue a "wandering retreat" of meditation and reflection, then returned to lead this unique organization that has a strong presence in both East and West.
---
1—
In the first episode, below, Kathryn is joined by Subhanu Saxena, co-Managing Partner, New Rhein Healthcare and a Regional Director for the Gates Foundation and Jacqueline Carter, International Partner and North American Director for Potential Project.
---
Organization Development Network of New York
---
Interview on Maureen Metcalf's VoiceAmerica podcast

(Or visit the podcast website.)
---
Creative Social Change: Leadership for a Healthy World—
Webinar for the International Leadership Association
(view the recording online now) — (visit the ILA page for this book) May, 2017
Kathryn Goldman Schuyler, PhD, Professor, Organization Development, CSPP, Alliant International University in San Francisco, CA ||| and Éliane Ubalijoro, PhD, founder and executive director of C.L.E.A.R. International Development Inc., and Professor at McGill University's Institute for the Study of International Development

Creative Social Change is rooted in interviews with five prominent thought leaders — Robert Quinn, Otto Scharmer, Edgar Schein, Peter Senge, and Margaret Wheatley. Readers  then discover contributions from creative scholar-practitioners such as Riane Eisler and Karl-Henrik Robèrt, and many new voices. The book concludes with case studies from around the world that readers can thoughtfully consider.
---
LEADERSHIP FOR A HEALTHY WORLD:
The Role You Play—
(view the recordings online now) Jan, 2017
Kathryn Goldman Schuyler, PhD, Professor, Organization Development, CSPP, Alliant International University in San Francisco, CA ||| Birgitte Ryslinge, PhD, President, Oregon Coast Community College ||| JoAnn McNutt, PhD, Organizational Psychologist and Board Consultant, Nygren Consulting