---
Exploring Leadership — International Leadership Association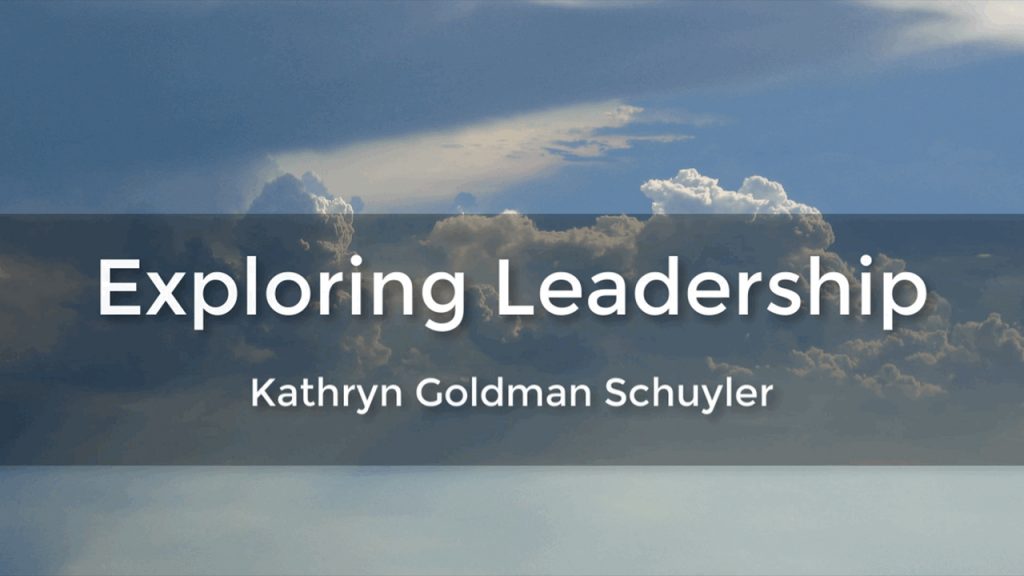 In this series of conversations, Kathryn Goldman Schuyler introduces viewers to leaders who dance with possibility, whose creativity, depth, and vision bring leadership to life — people from many arenas whose lives add vitality and meaning to our planet.
In the first episode, below, Kathryn is joined by Subhanu Saxena, co-Managing Partner, New Rhein Healthcare and a Regional Director for the Gates Foundation and Jacqueline Carter, International Partner and North American Director for Potential Project.
---
Organization Development Network of New York
---
Interview on Maureen Metcalf's VoiceAmerica podcast

(Or visit the podcast website.)
---
Creative Social Change: Leadership for a Healthy World—
Webinar for the International Leadership Association
(view the recording online now) — (visit the ILA page for this book) May, 2017
Kathryn Goldman Schuyler, PhD, Professor, Organization Development, CSPP, Alliant International University in San Francisco, CA ||| and Éliane Ubalijoro, PhD, founder and executive director of C.L.E.A.R. International Development Inc., and Professor at McGill University's Institute for the Study of International Development

Creative Social Change is rooted in interviews with five prominent thought leaders — Robert Quinn, Otto Scharmer, Edgar Schein, Peter Senge, and Margaret Wheatley. Readers  then discover contributions from creative scholar-practitioners such as Riane Eisler and Karl-Henrik Robèrt, and many new voices. The book concludes with case studies from around the world that readers can thoughtfully consider.
---
LEADERSHIP FOR A HEALTHY WORLD:
The Role You Play—
(view the recordings online now) Jan, 2017
Kathryn Goldman Schuyler, PhD, Professor, Organization Development, CSPP, Alliant International University in San Francisco, CA ||| Birgitte Ryslinge, PhD, President, Oregon Coast Community College ||| JoAnn McNutt, PhD, Organizational Psychologist and Board Consultant, Nygren Consulting