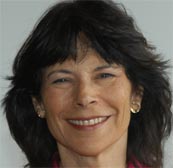 Kathryn Goldman Schuyler, Ph.D., the President of COHERENT CHANGE, has over twenty years of experience in organization development, personal growth, and movement education. As a certified clinical sociologist, she has created and managed processes that transform organizational culture, enhance leadership, and improve organizational health. She has coached hundreds of executives. She is also a PSA-certified professional ski instructor who brings her understanding of sports and the way we learn to her work with organizations. In her practice as a Guild-Certified Feldenkrais practitioner®, she helps people move with increased ease, improve their performance in sports, and relieve pain from injuries or misuse. She uses the The Anat Baniel Method for Children to support powerful learning in children with special needs.
Dr. Goldman Schuyler is Professor of Organizational Development at Alliant International University (San Francisco), where she leads seminars on leadership, organizational ethics, corporate social responsibility, coaching, the art of change, and consulting skills. Previously she was an internal organization development consultant for Exxon, created and led an experiential program in human development, was on the faculty of an international MBA program, and led workshops in leadership, group dynamics, and stress management across the US. The American Management Association sponsored Dr. Goldman Schuyler in creating public and corporate seminars on "Revitalizing Your Downsized Company." She has published three books on leadership, of which two were sponsored by the International Leadership Association: Inner Peace—Global Impact (2012), Leading with Spirit, Presence, and Authenticity (2014), and Creative Social Change—Leadership for a Healthy World (2016).
Her experience is grounded in extensive training and education in sociology, psychology, human development, and systems thinking. She earned her doctorate from Columbia University and has been a certified as a Clinical Sociologist since 1984. She has been an internationally certified Feldenkrais Practitioner since 1983, when she completed her studies with Dr. Moshe Feldenkrais, the founder of the Feldenkrais Method®, and is also an Assistant Trainer of the Feldenkrais Method. She is certified as a practitioner of the Anat Baniel Method to work with children who have cerebral palsy and other developmental disabilities, as well as with "anti-aging" to sustain vitality for adults of all ages. Dr. Goldman Schuyler currently teaches adults with cerebral palsy through the Ability Now Bay Area, in addition to her consulting and coaching. You may want to download an article that describes some of her work with Ability Now.
---
The terms Feldenkrais Method®, and Feldenkrais® are registered service marks of the FELDENKRAIS GUILD® of North America.